The cozy street Rua do Carmo is located in the center of Lisbon; from Rossio you walk uphill on this street to Rua Garrett. Halfway up the street is an old green truck from which you'll recognize the first sounds of Fado. t's basically a traditional boombox on wheels, but with Portuguese heritage and class. You can buy CDs here to listen to at home again.
This fado car, at the beginning of Rua Do Carmo, plays non-stop fado music.
Stores in Rua do Carmo
In the street you can find many stores. There are branches of well-known international chain such as the Footlocker, H&M, Nespresso and Levis, but in between you can also spot many typical Portuguese shops selling souvenirs, like typical Portuguese crochets at Rezentos (at the beginning of the street).
If you walk from Rossio to Rua Garrett, you will see Elevador de Santa Justa, halfway on the left. If you look up you will see the walkway that you walk on when you take the Elevador de Santa Justa to Bairro Alto.
Fancy an ice cream stop, then Rua do Carmo is your friend too. There's a Gelados Santini store right around the corner that arguably sells the best ice creams in town.
Food court Armazéns do Chiado
On the other side of Santini is the shopping center Armazéns do Chiado.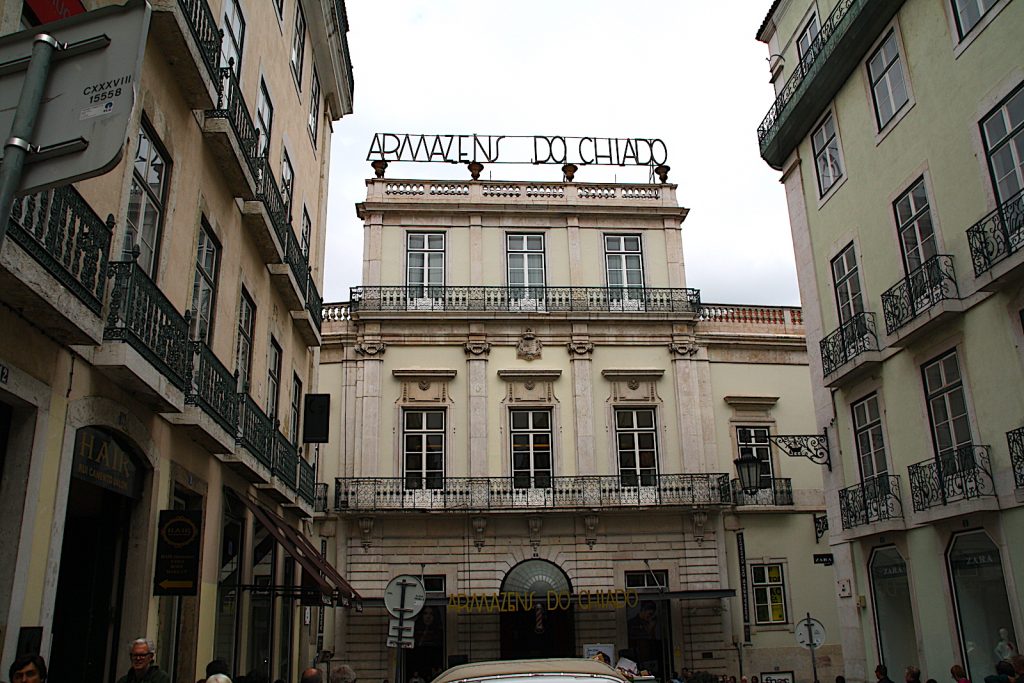 Here you'll find a total of 54 shops and a food court. The shopping center was rebuilt after the great Chiado fire in 1988, by the well-known Portuguese architect Siza Vieira.
Where to find Rua do Carmo