Rua Nova do Carvalho, is better known with tourists as Pink Street. Currently it is one of the most famous and favorite nightlife areas of locals, but you will also find tourists there. The bars in Bairro Alto
in Bairro Alto close earlier than in Rua Nova do Carvalho, making it very pleasant here until the wee hours.
Rua Nova do Carvalho is located in the Cais do Sodré, district, for a long time this neighborhood was one of the disadvantaged neighborhoods in Lisbon. A place for bustling brothels and drunken sailors.
But since 2011, Cais do Sodré has gotten a makeover. The main street Rua Nova do Carvalho was given a pink carpet (hence the nickname "Pink Street"), which is inviting for a visit to the many bars and eateries here. During the day it is quiet, but after midnight the street is full of people, drinking and eating outside.
These are our favorite bars in Pink Street
Music Box
Under the arches of the bridge you will find one of the better stages with a diverse spectrum of music. From jazz to rock, indie to metal. From midnight DJs will play everything from house to techno. In short, if you're a music lover, check out the
Music Box website. Ticket prices are around 15 euros.
The entrance to Music Box is under the bridge, giving it a cave-like idea.
Address: Rua Nova do Carvalho 24
Opening hours: every day (except Sundays) from 11 p.m to 6 a.m.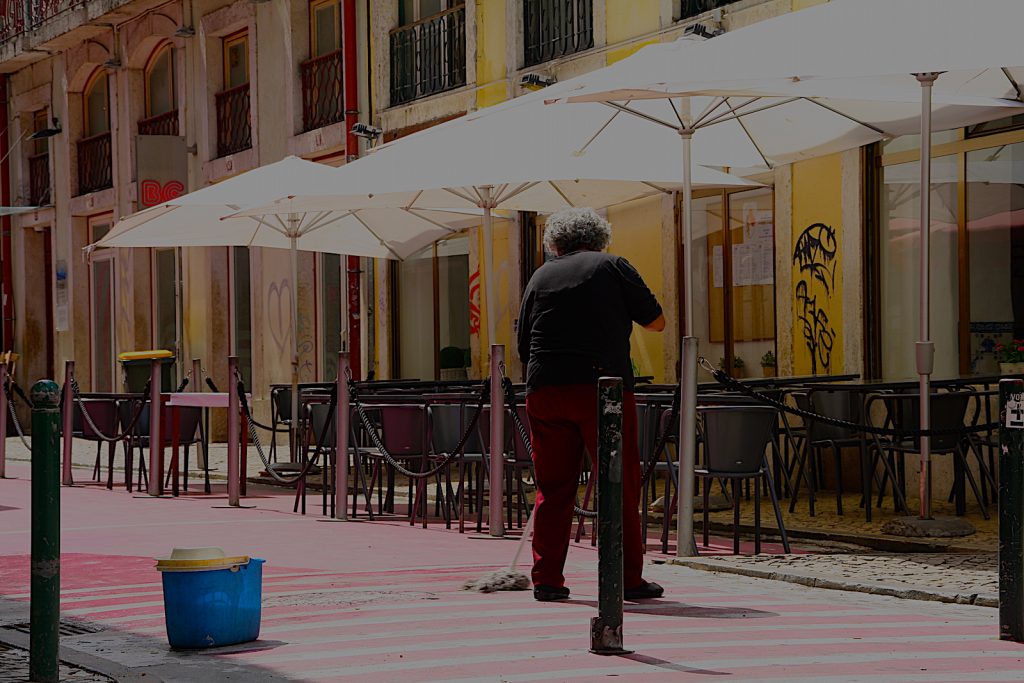 Povo
On Tuesday to Thursday and on Sundays you can enjoy Fado in Povo, fado as it's supposed to be. In Lisbon you'll find many fado restaurants, but often these are very touristy. My advice is to find the more underground places, such as Povo and Tasca do Chico in the Bairro Alto.
Especially young fadista (fado singers and singers) get stage time here, so who knows, you might be watching upcoming fado talent of Portugal. At Povo you can enjoy fado and combine it with petiscos (tapas). If you;re going here, don't forget to get a reservation (or come early), there aren't many tables.
Address: Rua Nova do Carvalho 32-36, Cais do Sodré
Opening hours: every day from 6 pm to 4 am (Monday to 2 am and Sunday to midnight)
Sol e Pesca
Upon entering, it's not difficult to guess what Sol e Pesca used to be. More than 20 years ago, seamen would come here for their fishing gear. The current owner has kept this atmosphere alive by starting a fish restaurant with conservas (canned fish) and seafood.
Also at this bar the idea is to eat small snacks. Friendly warning: if you don't like fish you'd better go somewhere else. There are not a lot of seats by the way, and reserving is unfortunately not possible.
Address: R. Nova do Carvalho 44
Opening hours: every day (except Sunday) from noon – 00:00.
Where to find Pink Street