n the Rua Santa Justa, right in the centre, stands the iron, Elevador de Santa Justa, 45 Meters high, connecting the lower city of Baixa with the upper city of Bairro Alto.
The elevator was built at the beginning of the 20th century. The steep hills formed a major obstacle for the inhabitants in Lisbon. Nowadays the lift is mainly a tourist attraction and definitely worth a visit.
Wooden elevator with a lot of ironwork
From the outside it's all iron, but when you board the elevator there is a very different atmosphere. The inside is mainly made of wood, surrounded with iron. That there already gives you a special feeling, but how about a lift with a lift attendant !? In less than 2 minutes you'll be in the upper floors where you can enjoy the view over the Baixa.
AIf you want an even more panoramic view, go to the top of the neo-Gothic tower, accessible via a spiral staircase. The top has a cafe with a beautiful view of the city, including Rossio square, Castelo de São Jorge and the Tagus river. If you want to go all the way up, it's € 1.50 extra.
Our tip: Buy a day ticket (€ 6.30) (if you do not have a Lisboa Card) so that you can get all the lifts up and down in one day. Otherwise it will be a very expensive day: elevador de Santa Justa will cost € 5.15 up and down
Elevador do Carmo
Elevador de Santa Justa is also known as Elevador do Carmo with the locals. Through the covered bridge you reach Largo do Carmo and the ruins of Convento do Carmo.
Long queues
Be there early if you want to take the elevator. These days the Lisboetas themselves avoid this lift and prefer to use the escalators or elevator from the Chiado metro station to the Baixa. Sometimes there is a queue of 45 minutes for a ride with the elevator. And considering an elevator ride does not last longer than 2 minutes, you might want to come back another time.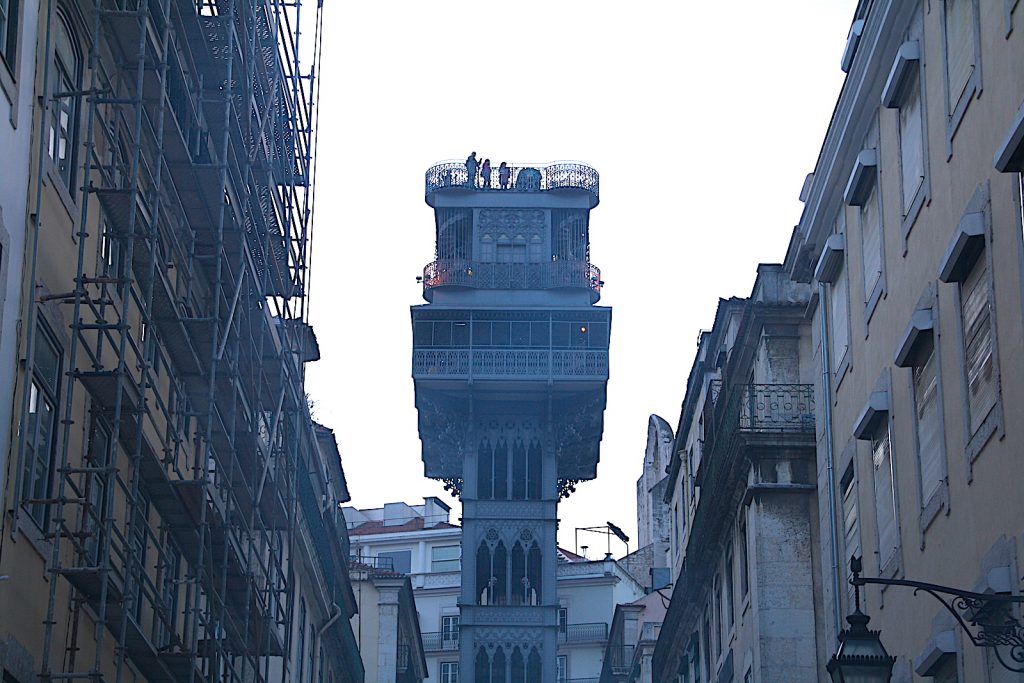 Don't walk up the stairs if you want the elevator, the entrance for the elevator is under the stairs.
Where to find Elevador de Santa Justa
Address: Rua de Santa Justa, Baixa
Opening hours: every day from 07 a.m. – 9 p.m.