Cais do Sodré – From bad neighbourhood to hotspot
---
Since 2011, lots of money has been invested in Cais do Sodré. Less than 6 years ago this was a seriously disadvantaged neighborhood, with lots of crime, prostitution and social problems. The municipality has since given the neighborhood a boost. Nowadays it's a place where many Lisboetas want to be seen.




In the main street Rua Nova do Carvalho (also known as Pink Street), there are multiple bars with live music, burlesque clubs, tapas restaurants and many pop-ups shops and eateries.




Cais do Sodré is certainly no longer the underdog of the Bairro Alto district. The nightlife in both neighborhoods are similar, but at Cais do Sodré you can experience that bohemian feeling even more than in Bairro Alto.


Fisherman's past
In the past, many fishermen came to Cais do Sodré to search for their entertainment after work. A few years ago you could still see these fishermen walking through the streets, chewing tobacco. This images has steadily declined over the years. What hasn't disappeared however is the excellent fish you can eat in this part of town. It doesn't matter which restaurant you step into, the fish is always fresh.

Cais do Sodré is best known as the railway station that many commuters use every day to get to and from their work.


This station is also the starting point for the gorgeous train journey along the coast to Cascais.


Places of interest in Cais do Sodré
Avenida Ribeira das Naus


Avenida Ribeira das Naus has also received a makeover in the past years. This street was formerly known as a shipyard, many ships were built here.

There is a wide footpath laid out and there are a number of cafes to drink a coffee. It is a wonderful place to start your day with a bica and a bolo. The sun slowly starting to warm up, looking over the Tagus, what more could you want?


Acensor da Bica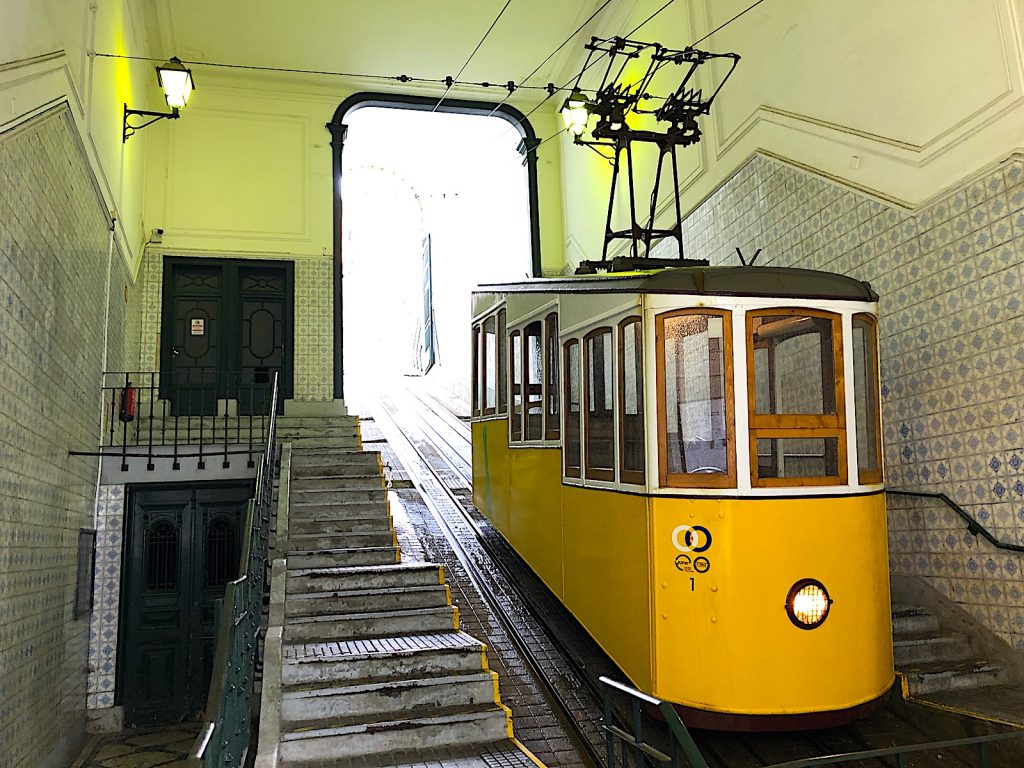 To get to the Chiado, Estrela or Bairro Alto in a quick way you can take the Elevador da Bica. This tram will bring you back to the upper city.




Squares & Streets
Praça de São Paulo


Praça de São Paulo is designed in memory of the Pombalina architecture (Marques de Pombal was the one who built the Baixa after the earthquake of 1755). The most striking feature of this square is the church of São Paulo. If you have a chance to take a look inside this church, don't forget to look up. The ceiling is full of paintings.


Jardim de Praça Dom Luís


Need a place to relax after your visit to Mercado da Ribeira? Then this park offers a good opportunity. If you're with children, this is an ideal place to be. There is a playground in this park where the children can go crazy. There are a number of benches in the park, but you can also sit quietly at the cafe adjacent to the playground. The statue in the park is Marquês Sá da Bandeira, a politician from the 18th century.


Pink Street


In the main street Rua Nova do Carvalho (also known as Pink Street), there are multiple bars with live music, burlesque clubs, tapas restaurants and many pop-ups shops and eateries.




Ribeira das Naus
Looking to cool off during the hot summer days, but your visit to Lisbon is just too short to go to the beach? Don't panic! Grab your beach towel and head to Ribeira das Naus!

Food & drinks
Time-Out Mercado da Ribeira


Time-Out Mercado da Ribeira is Lisbon's largest food hall. If you're a real foodie, you do not want to miss this place!




Tease


There is nothing Portuguese about Tease. When you've had enough of all the Portuguese sweets and just want a pie, then Tease is a nice place to go.




Gelato Davvero


Imagine being in Rome and have an ice cream at Gelato Davvero . If you ask locals, they'll tell you this is one of the best ice cream shops in Lisbon, with the best Italian ice cream.




A Merendeira


Bakery A Merendeira has one of the tastiest pão com chouriço you can find in Lisbon. You can buy single rolls here, but you might be tempted to get a menu.




Santini


According to these Santini ice-cream makers, you will find the tastiest ice cream in the world there. Definitely worth trying out for yourself.




Accommodation
Boho Guesthouse: The guesthouse is just around the corner from Pink Street. A double room with shared bathroom costs 50 GBP per night.

Studios with Mezzanine Rua da Moeda: consists of 6 studios with own kitchen, bathroom and living room. There are studios for at least 4 people and 4 adults and 2 children. If you are looking for a studio for 2/4 persons, you pay about 127 GBP per night.

Lx Boutique Hotel: The four-star hotel is located in the heart of the triangle between the districts of Chiado, Baixa and Cais do Sodré. Each room has a different theme. An overnight stay costs around 175 GBP.




---