Bairro Alto – Nightlife District
---
Picturesque streets
The Bairro Alto neighbourhood is the upper town (known as "Bairro Alto") of Lisbon. This district is best known for its many shops and places to go out, especially in the nighttime.
Like in many parts of Lisbon, you can stroll in this neighborhood and enjoy the picturesque narrow streets. In the 90s, Bairro Alto was a neighbourhood that was not so developed. Many properties were damaged and crime was on the rise.
Thanks to some serious upscaling, financed by the city, the Bairro Alto has remained a neighbourhood with rich possibilities. The district has been car-free since 2003, resulting in many empty parking spaces. Restaurants soon filled these up with outside terrasses.
Low budget restaurants
This neighborhood on the hill always has a café, bar or restaurant open for something to eat sand drink. You will find many cheap restaurants with limited items on the menu. These are called "Tasca". One of my favorites is A Tasca do Chico, where local fado can be heard.
The district also offers many attractions that are worth discovering. There are many small shops in the Bairro Alto, and it truly is something for everyone.
Not for early birds
It's good to know that daily life in the Bairro Alto starts slowly: in the morning and early afternoon the shutters of the houses are often closed. By night the place comes alive, this is also the best time to discover the neighbourhood. You can hear (live) music until deep into the night. If you want to sit quietly in a pub and have a good talk, do not go to the Bairro Alto. The cafes are often small and busy, the charming thing is that people stand outside and drink from plastic cups in the evenings.
You can learn the history of Bairro Alto from a few street names. Many newspapers and publishers were established here in the 19th century. THat's why you'll find streets like Rua do Diário de Notícias (named after one of the most famous newspapers in Portugal).
How to get to the Bairro Alto
You can reach Bairro Alto in various ways, for example with the eelétrico 28: get off at the stop Chiado or Praça Luis Camões. From both stops you'll enter Rua da Misericórdia and from there you turn into one of the many side streets and then wander through the Bairro Alto.You can also catch the Ascensor da Glória from Praça Restauradores. Do not forget to enjoy the beautiful views of the Baixa and Alfama from the top, at Miradouro São Pedro de Alcântara.
Sights
Ascendor da Bica
Ascendor da Bica runs from Largo do Calhariz to the Rua de São Paulo and connects the districts Chiado and Cais do Sodré. Don't feel like walking down the steep hills? Then take the Ascendor (tram).

Ascensor da Glória
This cable car tram, Ascensor da Glória, takes you from Praça Restauradores to the Bairro Alto. Just like the locals, take the tram to move around comfortably.  

Igreja de São Roque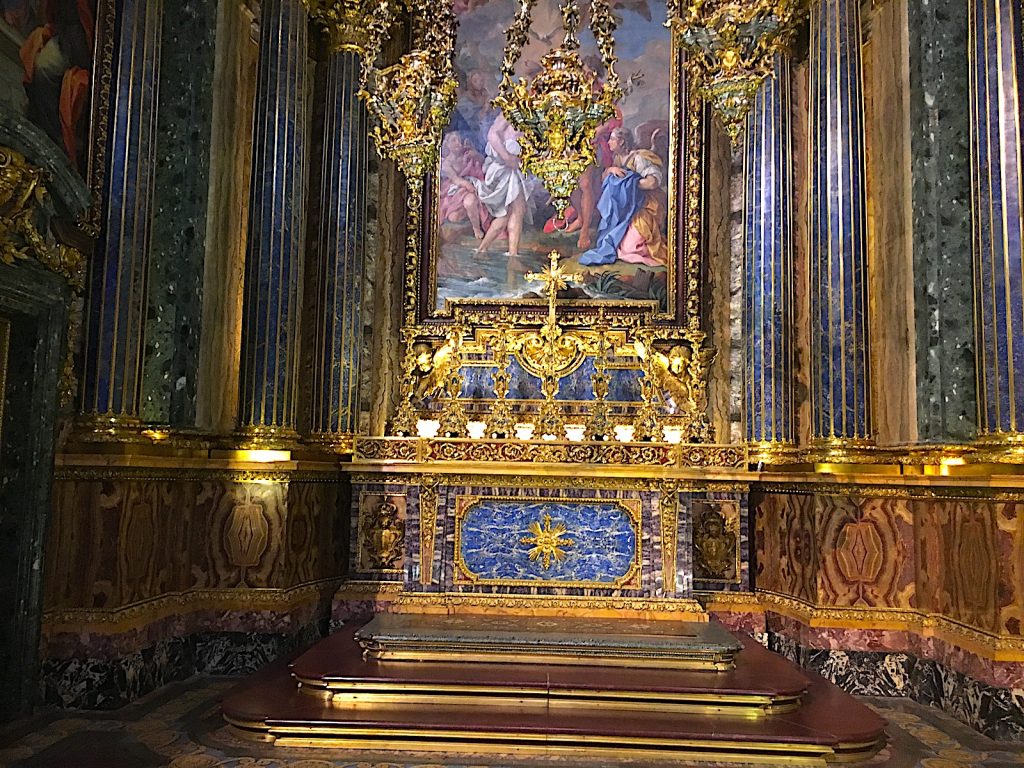 The facade of Igreja de São Roque looks boring, but does not tempt you to walk past it. Because the interior is spectacular.

Elétrico 24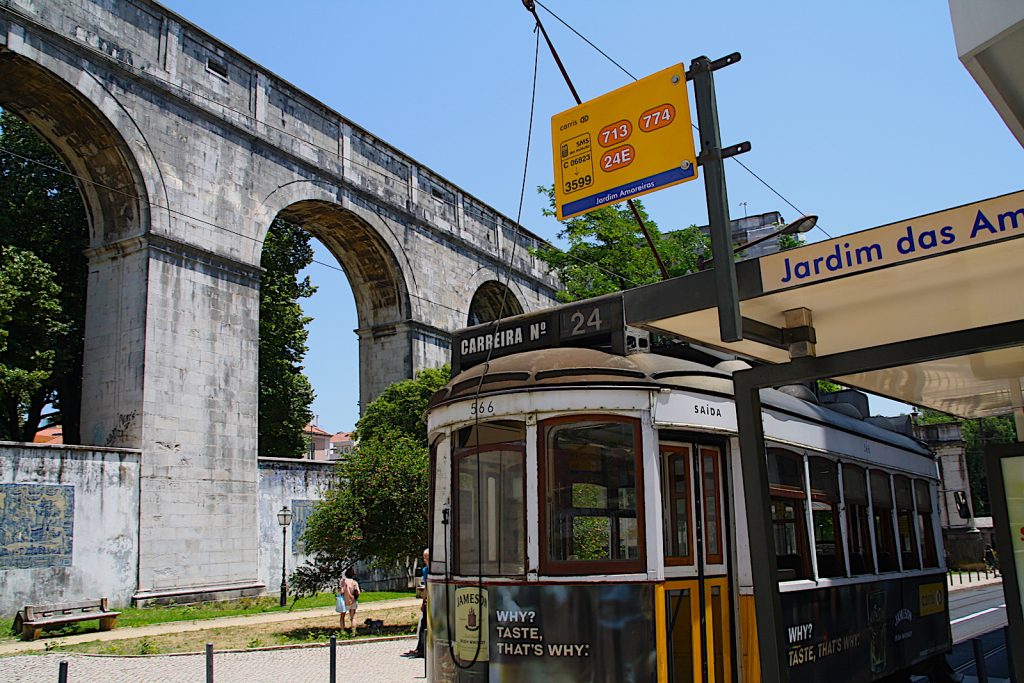 Since September 2018, elétrico 24 has been driving after 23 years of absence through the streets of Lisbon. The tram has a starting point near the Bairro Alto.

Elevador de Santa Justa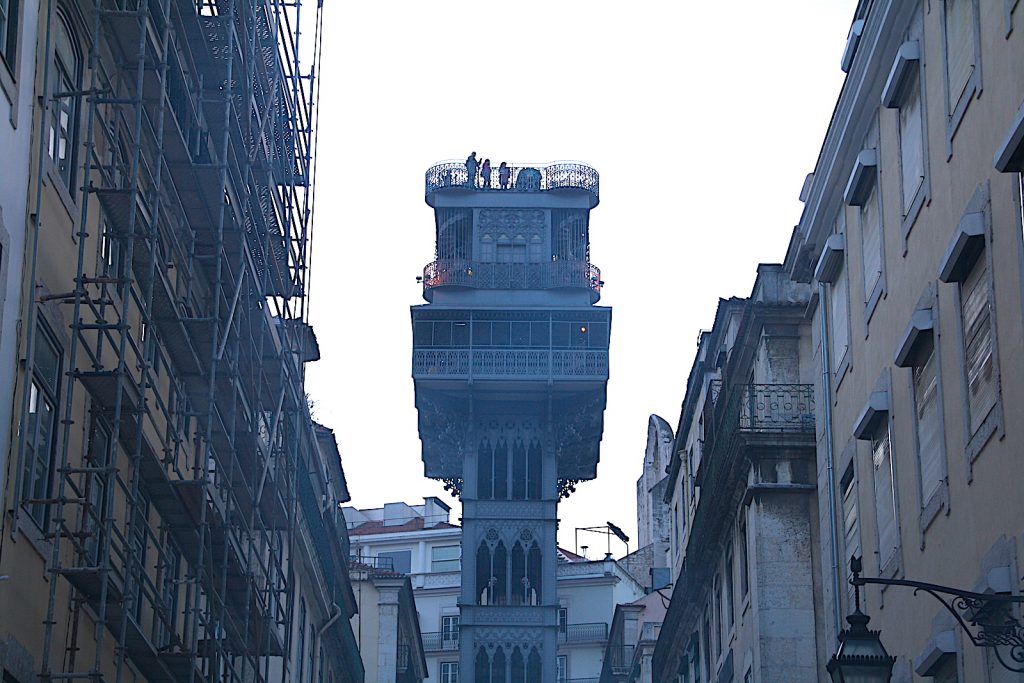 If you want a quick from the Baixa to the Bairro Alto, take the Elevador de Santa Justa. This 45 meter high wrought iron lift will take you to the highest part of the city in a few minutes.

Squares & Streets
Miradouro de São Pedro de Alcântara
Miradouro de São Pedro de Alcântara is one of the most beautiful viewpoints of the city. There are bound to be a lot of tourists there, but because of the rectangular wide shape, there is room for everyone. Nowadays there are wooden log cabins where you can buy sangria, beer and all kinds of food.

Shopping
Rua do Norte, Rua da Atalaia and Rua do Diário de Notícias are the three most famous and important streets in Bairro Alto. Here you'll find many boutiques from starting fashion designers.

Food and drink
A Tasca do Chico
A Tasca do Chico is a fado restaurant in Bairro Alto, very small and it is always full when there is fado. Fado is only sung here on Mondays and Wednesdays.  

Instituto Dos Vinhos Do Douro E Do Porto
At IVDP (Instituto Dos Vinhos Do Douro E Do Porto) you'll find an extensive choice of various older port wines. Even if you're not a port enthusiast, this is still a nice bar to discover.  

Cervejaria da Trindade
Cervejaria da Trindade started as a monastery in 1294. After being inhabited by monks for centuries, the building got a completely different function in the mid-19th century, namely that of a brewery. Since 1934 it has been a restaurant. Eating here is a unique experience, certainly not something to be missed!

Park Bar
The roof terrace of Park Bar has a fantastic view over the Tagus. The roof terrace is located on the top floor of a parking garage.

Bairru's Bodega
Bairro Alto is known for it: the later it gets, the more sound comes out of this district. Loud music from a bar or people talking (loudly) on the street. What I missed was a place where good wine is served and where you can have a good conversation. We found that place in Bairru's Bodega.

Accommodation
Dias e Dominguez: hostel Dias e Dominguez is located in the heart of the Bairro Alto. The guesthouse offers a double room with shared bathroom and toilet. One night is about 29 GBP. Your Place in Lisbon: The apartment has three bedrooms, a bathroom and is almost 100M2 large. Ideal for a family, you can accommodate up to 6 people. One night is 131 GBP. Merces by Central Hill Apartments: if you come to Lisbon with a large group this is the ideal apartment. It is a 15 minute walk to the Chiado district. It has a living room and 4 bedrooms. You can accommodate up to 16 people. One night is almost 262 GBP (based on 8 people).



---