Alfama – Old quarter with Fado
---
The Alfama district is located on one of the seven hills of Lisbon, between Castelo de São Jorge and the Tagus river. Alfama is Lisbon's oldest neighbourhood; in fact, during the time of Moorish rule, Lisbon consisted only of Alfama.




The name of the district also dates back from this period, Alfama comes from the Arabic "al hamma" which means baths or fountains. In the past there were hot springs at the foot of the hill. During the earthquake of 1755, the neighborhood remained untouched, which is why you'll still find many old buildings here.


Picturesque streets
Alfama has some beautiful sights to offer so don't be surprised that there are many tourists in the streets here. The district has a romantic, picturesque appearance and is a labyrinth of steep curved streets, narrow alleys and winding streets and stairs. There are also small bars where traditional fado music can be heard every evening.


Explore Alfama
The best way to discover Alfama is to walk around. From the Baixa district you walk uphill past the cathedral Sé de Lisboa and you're on your way to explore Alfama. Try to keep your city map or phone in your pocket and just go around wandering, you will think you are lost (and maybe that happens too) but there is always a point that you recognize.




There are many tuk-tuks in Lisbon today, which can be a tempting way to discover Alfama because these vehicles can take you almost anywhere. But if you really want to discover Alfama, then do it on foot.




Tram 28 also drives part through Alfama. You can use the tram as a hop-on hop-off means of transportation to see all the sights.


Home of Fado
Fado originated in Alfama and is the most heard music in the neighborhood. You can hear the most authentic fado in bars that are hardest to find. Our tip: ask the local people where to go.

The most famous fado singer was Amalia Rodrigues. Her house is a museum which has the prizes she won on display, together with her clothing, jewelry and letters. The voice of Amalia echoes around the house. For more information about the origins and development of the fado music, visit the Fado Museum.




During the day Alfama is a friendly neighborhood, but in the evening and at night you'd better not just walk through the alleys. Certainly with the arrival of many tourists, crime is slightly higher in the night hours than it used to be. Nothing to be afraid of though, if you use common sense you'll be fine. In that sense Lisbon is no different than any other big city.


Places of interest in Alfama
Sé de Lisboa


The site where Sé de Lisboa – Lisbon Cathedral is today, there used to be the main mosque of the Moors who conquered Lisbon. The cathedral has withstood many earthquakes.




Castelo de São Jorge


On the highest hill of the city lies the most famous castle of Lisbon: Castelo de São Jorge. It is one of the most famous tourist attractions of Lisbon.




Panteão Nacional


Santa Engrácia is a former church in Alfama. In the twentieth century the church was converted into Panteão Nacional. The construction of the former church started in the second half of the 16th century. The church was completed in the second half of the 20th century.




São Vicente de Fora


São Vicente de Fora is a church and monastery from the seventeenth century. It is one of the most important Mannerist buildings in Portugal. The royal pantheon of the house Bragança is part of the complex.




Museo do Fado


The entire collection of the Fado Museum is dedicated to the traditional Portuguese music of life. In addition to the permanent exhibition, you will find a documentation center in Museo do Fado , a school (where Portuguese guitar and singing lessons are offered), a shop, a restaurant and an auditorium where live performances take place regularly.


House of Amalia Rodrigues
The most famous fado singer was Amalia Rodrigues. Her old house is a museum which has the prizes she won on display, together with her clothing, jewelry and letters. The voice of Amalia echoes around the house. For more information about the origins and development of fado music, visit Museo do Fado.


Elevador Castelo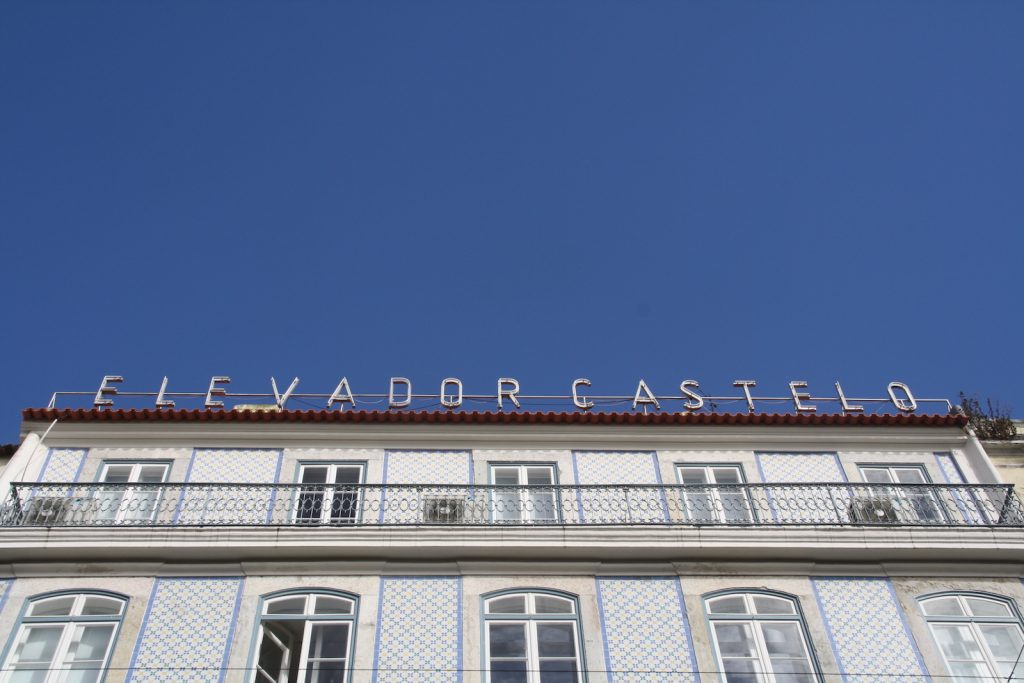 If you want an easy way from the Baixa district to Alfama, take the elevator: Elevador Castelo! With 1 change halfway you are within 5 minutes in Alfama.




Squares & Streets
Jardim Botto Machado


Are you looking for a small-sized park with lots of local residents and also a playground for children, go to Jardim Botto Machado.




Miradouro de Santa Luzia


If you want to go to one of the most special lookout points in Lisbon, go to Miradouro de Santa Luzia. This romantic terrace near the Church of Santa Luzia allows visitors to enjoy a panoramic view of the houses and churches of Alfama and the Tagus River. The terrace is the ideal place to relax while enjoying a cup of coffee with some sweet treats.




Miradouro das Portas do Sol


A few steps away from miradouro de Santa Luzia is Miradouro das Portas do Sol. There are many miradouros (viewpoints) in Lisbon. But this one sort of feels like you're in a living room of some sorts, very cosy. There's a secret tunnel nearby, can you find it?


Igreja de Santo António de Lisboa
Just a stone's throw away from cathedral Se Lisboa you will find Igreja de Santo António de Lisboa. This church is built in the place where António de Padua was born in 1195. The church is entirely dedicated to St. António (St. Anthony).


Shopping
In Alfama you won't find the big retail chains, but smaller shops that can be found here and there in the narrow streets of the district.


Prado Mercearia


The interior is beautiful from Prado Mercearia. The shop has many elements that make us return to the past, such as the wooden counter with glass doors, the antique bowl or the drawers with the spices.



Feira da Ladra
The best and most well known flea market in Lisbon. Feira da Ladra or the thieves market, "ladra" means female thief in Portuguese. The name is quite apt, as this market is also famous (or infamous) for the fact that pick-pockets frequent this market (so pay attention to bag thieves) and goods are regularly offered here which you can expect to be stolen from someone else.

This market has existed since the 12th century but was renamed as Feira da Ladra in the 17th century. But don't be put off by this, just pay attention to your stuff. The market starts or ends at the Sāo Vicente de Fora. The market is big enough to walk around for at least one or two hours.

The market is only open on Tuesdays and Saturdays from sunrise to sunset.


Food & Drinks
On every corner in Alfama you can eat and/or drink something, oftentimes with live Fado. It is a pleasure to sit on a terrace and enjoy everyone and everything that passes by.


Gelato Davvero


Imagine being in Rome and have an ice cream at Gelato Davvero . If you ask locals, they'll tell you this is one of the best ice cream shops in Lisbon, with the best Italian ice cream.




Food Temple
foto: the food tempel

One of the few good vegetarian restaurants in Lisbon can be found in Alfama, Food Temple. Finding this place will require some searching, this restaurant is hidden behind a blue door.




O Velho Eurico


Are you looking for typical Portuguese food in a typical Portuguese restaurant in the middle of the touristic heart of Alfama? Then you are looking for O Velho Eurico. This cozy little restaurant also has a terrace.




RC Restaurante


Do you really want to eat low budget – then RC Restaurante is what you're looking for! For 5 euro you can eat a daily menu including a drink and dessert. Do take cash with you what you can not pin here.




Chapitô à mesa
Chapitô à mesa is Lisbon's circus school, which may not make you think about one of the most beautiful views of the city. But here it is: almost perched against the walls of Castelo de São Jorge you'll find Chapitô à mesa.


Accommodations
Will Be Friends: this hostel is located a few streets behind Sé Cathedral. You can reserve a bed for less than 17 GBP in a dormitory with 4 beds.

Casa do Castelo: lies within the old city walls, less than 100 meters from Castelo de São Jorge. The apartment has one bedroom, a bathroom and kitchen. You can stay there with up to four people. An overnight stay costs an average of 87 GBP.

Alfama Loft Studio Loft Apartment w/ River View – by LU Holidays: The location is great in the middle of Alfama, the view of the Tagus from the apartment is the icing on the cake. There is capacity for 4 people, one bedroom, one bathroom and kitchen. One night is on average 175 GBP.




---