The historical centre of Sintra is not that big and usually filled with tourists, but definitely worth a visit. The old centre consists of a number of streets that you can walk up, Sintra is built against a mountain.

The city lends itself to beautiful photos, wherever you look there is always something you want to take a picture of.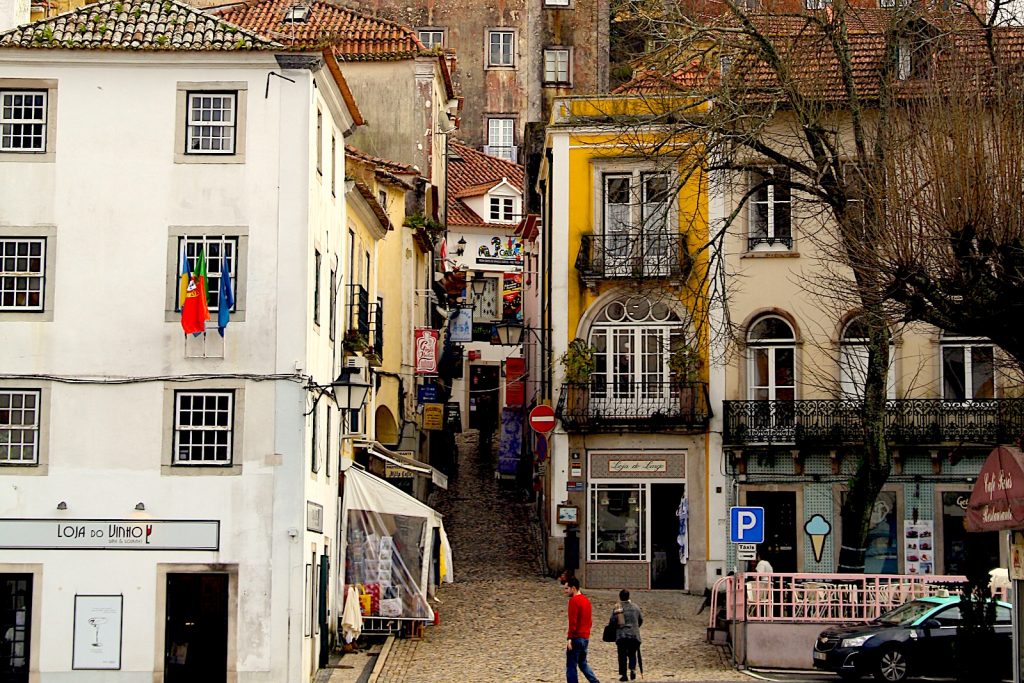 The Rua das Padeiras has many side alleys that you can use to discover the city, if you have the time then we definitely advise you to go wandering around the historic heart of this city.
There are many eateries in this part of the city, but if you want to get in touch with the real Portuguese cuisine, I advise you not to eat in the city centre. The portions are small to medium and the taste seems to be adjusted to tourists, not as specific as the typical Portuguese cuisine can be.
Best Sights
Palácio Nacional de Sintra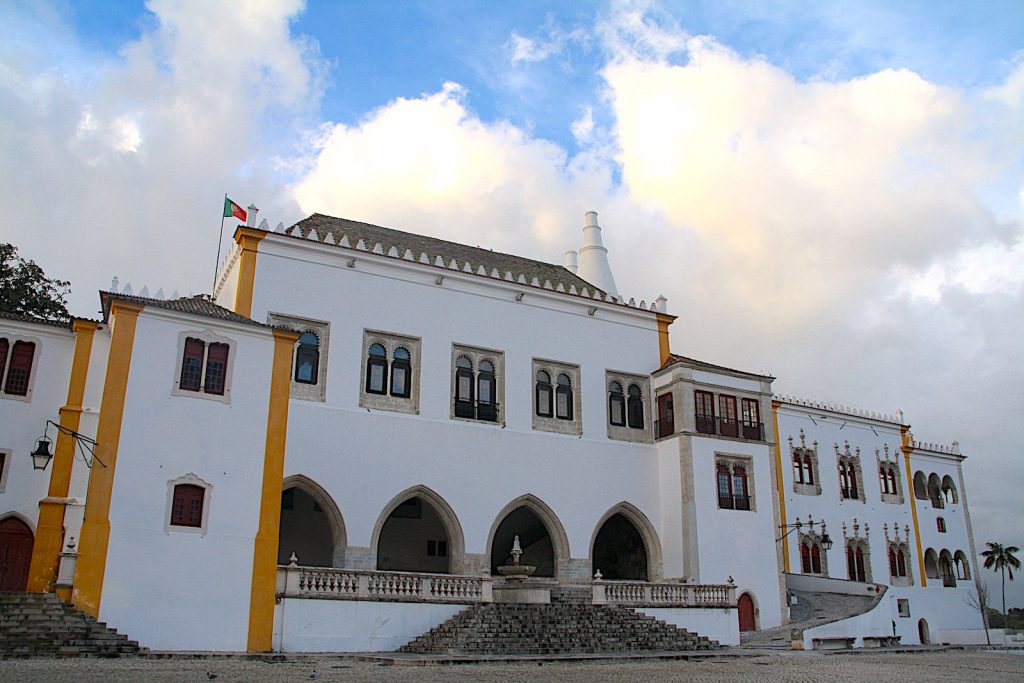 The heart of the historic centre is Palácio Nacional de Sintra, a former Moorish palace that is visible from many places in the city. From there you walk via Praça Republica towards Rua das Padeiras where you will find many (tourist) shops with Portuguese products.
Food & Drinks
Piriquita
If you fancy a snack or something sweet, go to Piriquita – a bakery in Rua das Padeiras. I've written it before, Portugal has the best bakers. Many (small) towns and cities have their own type of dessert.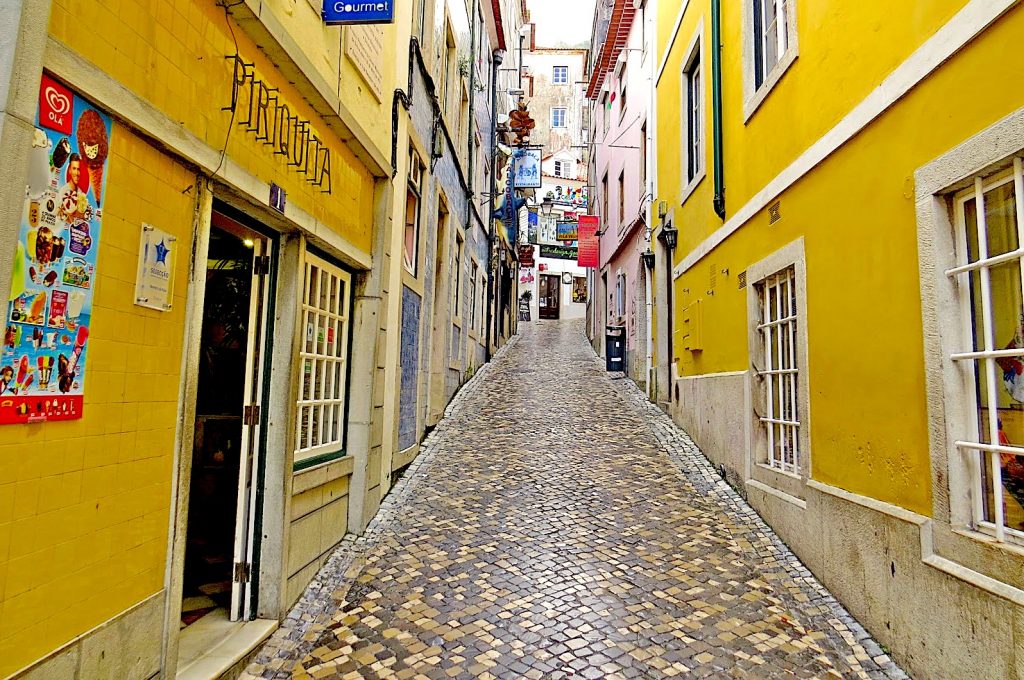 Sintra is no different with their Travesseiros. It is made of puff pastry with almond cream inside. It's difficult to describe how this tastes – it is delicious. So if you are in Sintra, you should get yourself a Travesseiros. Because Piriquita makes it themselves in their bakery, they are often still warm and very crunchy to eat.
Do not forget to bring a roll of queijadas (sweet cheese biscuits) as well when you are at the bakery. Queijadas are also a typical Sintra sweet treat, and just as delicious!
Ginjinha
Just like the Ginjinha sold in Lisbon from small shops, there are Ginja shops in Sintra too. You can drink ginja or Ginjinha from a chocolate cup in a number of stores. If you're in the mood for a shot, walk out of the Rua das Padeiras and choose your favorite place.

Once up the hill – when you walk out of Rua das Padeiras, you can turn left to visit the miradouro, the viewpoint, of Sintra. Walks in Rua Ferria until restaurante Miradouro. A narrow alley brings you to a small but beautiful viewpoint.
Tourist Office Sintra
From Praça República, if you walk straight towards Rua Gil. Vicente then you arrive at Ask me Sintra, the Tourist Office for Sintra. Here you can get information about bus services, walks and sightseeing in and around Sintra.

If you walk past Ask Me Sintra in the direction of Rua Barbosa Do Bocage, you will arrive at Quinta da Regaleira, which is located just outside the centre, about 15 minutes walking.
Ready, set, go walking
Many hiking tours towards the Pena start from the historic centre. It is definitely worth a walk. If you want to visit several places of interest, it is wise to start early and have a picnic at Pena or visit Castelo dos Mouros or Palácio Nacional de Pena.
Through this site you have a good overview of the walks that are available. From the centre of Sintra to Palacio da Pena it is about 3.5 km walk. You can also choose to take the 434 bus service to the palace and walk back from the palace to the centre.
Trust me, this is the comfortable option.
It's wonderful to walk through the woods, and not all that hard. What gets most people is that last few hundred meters to the palace (if you are already in the gardens). As said, choose ease and comfort and walk from the palace to the centre. Or, choose for ultimate convenience and take the bus back, or come by car.
Parking in Sintra
There is not much parking in the center, but at Rua Guilherme Gomes Fernandes there is a large (unguarded) parking lot. It is fine to park your car here, but do not leave any valuables in the car.
Turn on your navigation to get here, since 2018 the historic center is car-free. It is very nice if you visit the city as a pedestrian, but it is a challenge if you want to come to Sintra by car.
Near the historic center there is almost no parking space, you come to Sintra by car. Be sensible and park the car at the station: Parque de Estacionamento. Parking is free and there is always room.
Are you parking in Sintra, make sure you have enough coins with you! The vending machines do not accept bank card and / or paper money.
The parking in Sintra is cheap. In the high season, one hour of parking costs 0.80 euro cents, in low season it is 0.50 euro cents (prices in March 2018).
From the station to the historic centre
The historic centre has no train station, this is in the new part of Sintra. It is about a quarter of an hour's walk. You can walk in different ways: via Volta Duche (the main road) or via Rua Guilherme Gomes Fernandes – that's basically a short cut.