Sintra is perhaps one of the most beautiful place in Europe as far as we're concerned. It is not only the city itself that is so beautiful, it's the whole area around Sintra: from the beaches to the Pena.
The surroundings of Sintra are very romantic because of the many forests, mountains and ancient sights, such as country houses and castles in the region. The climate is also very nice, when it is warm in Lisbon, a visit to Sintra will cool you down.
Brief history of Sintra
When you arrive in Sintra it looks like you have entered a fairy tale: all around you are beautiful palaces, castles, country houses of former rulers with large gardens and parks.
The history of Sintra goes back to 300 years before Christ, when there was a Celtic Moon Temple. Sintra also owes its name to this, it's derived from the Celtic name Cynthia, which means moon.
In the 8th century the Moors took control of the area and they called the area Chintra. You often still find that name on the old buildings and paintings. Sintra is a city of 2000 years of history and is therefore a national monument, the city and its surroundings are not on the UNESCO World Heritage list for nothing.
Must see in Sintra
In many travel guides Sintra is mentioned as a daytrip within your city break to Lisbon. We think that is a bit inaccurate, because Sintra can not be discovered in just 1 day. Where to go! The centre can be combined with all the sights. But suppose you only go for 1 day, which landmark should you visit?
Obviously you'll choose Palácio Nacional de Pena, but then you'd have to pass over Castelo dos Mouros or Quinta da Regaleira, which is a real shame. And everything in one day is not feasible. Our advice is to stay in Sintra for a few days, two at the least. If you only have 1 day, then read below what you can do. Good luck with choosing what to see.
Historical centre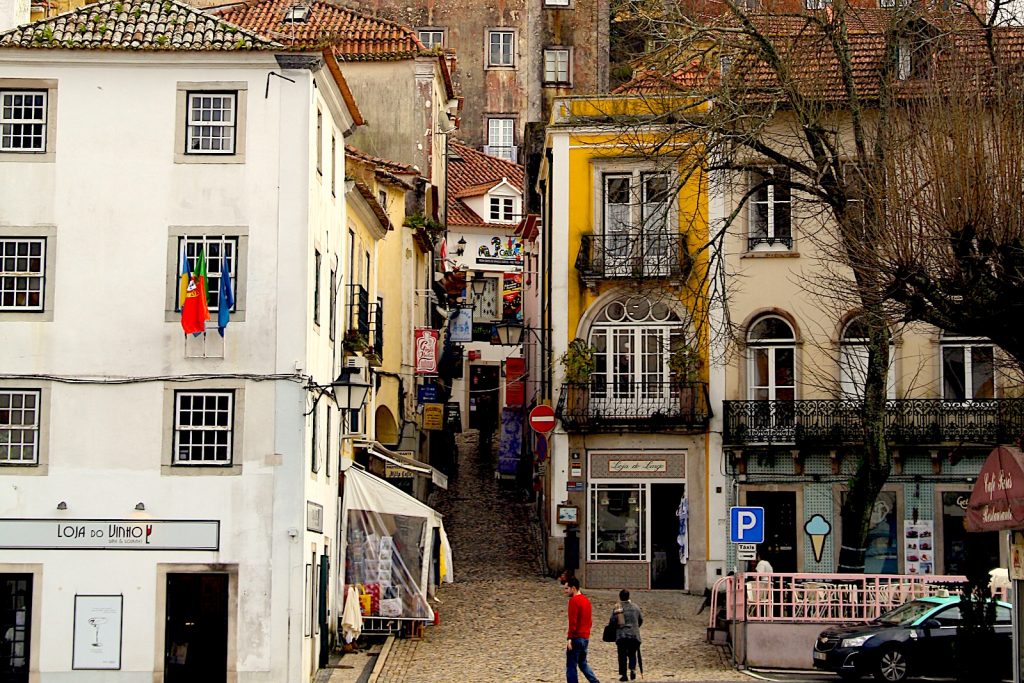 Wander around in the historic centre of Sintra is a must! It has become very touristy in recent years, but you shouldn't drop it for that.
Parques de Sintra
Parques de Sintra is the collective name for all attractions that are on Monte da Lua (the moon mountain). See below for the places of interest.
Castelo dos Mouros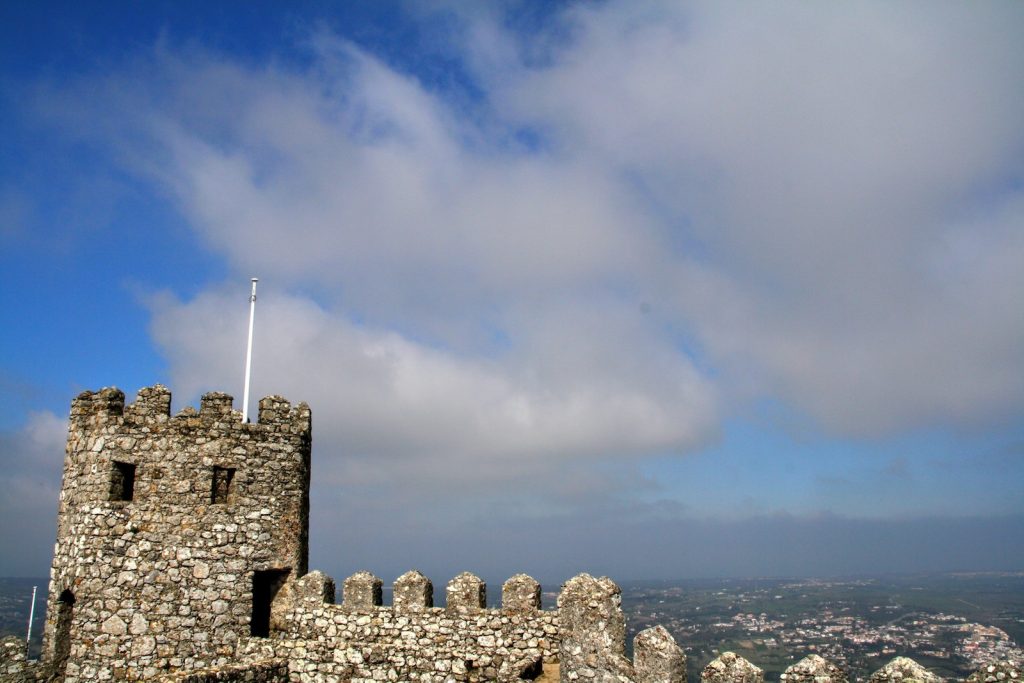 On top of the hills of Serre de Sintra lies the ruins of Castelo dos Mouros. Put on your hiking shoes and walk along the 450 meter walls that offer extraordinary panoramic view.
Palácio National e Jardins de Queluz

Between Sintra and Lisbon is a place called Queluz. Here is Palácio National and Jardim de Queluz, which was built in the 18th century for the royal family. Not only is the palace very beautiful, but a visit for (just) the gardens is already worthwhile.
Palácio Nacional da Pena
Palácio Nacional da Pena, the fairytale palace of Sintra, is by far the most beautiful palace in Sintra. Because of the different 19th century architectural styles and the bright colors, it is a striking sight on Monte da Pena in Sintra. A visit to the palace is definitely worth it if you go to Sintra.
Convento dos Cupuchos

This old convent, Convento dos Capuchos, is located in the middle of the Pena and is a stark contrast to all the splendour that you find in other places of interest. It is a Franciscan monastery where eight monks used to live.
Parque e Palácio de Monserrate
Since 2010, Parque e Palácio de Monserrate has been reopened to the public. With the Arabic atmosphere it feels like walking around in a thousand-and-one nights setting. Don't miss the gardens! This palace has not yet been discovered by the tourists.
Palácio Nacional de Sintra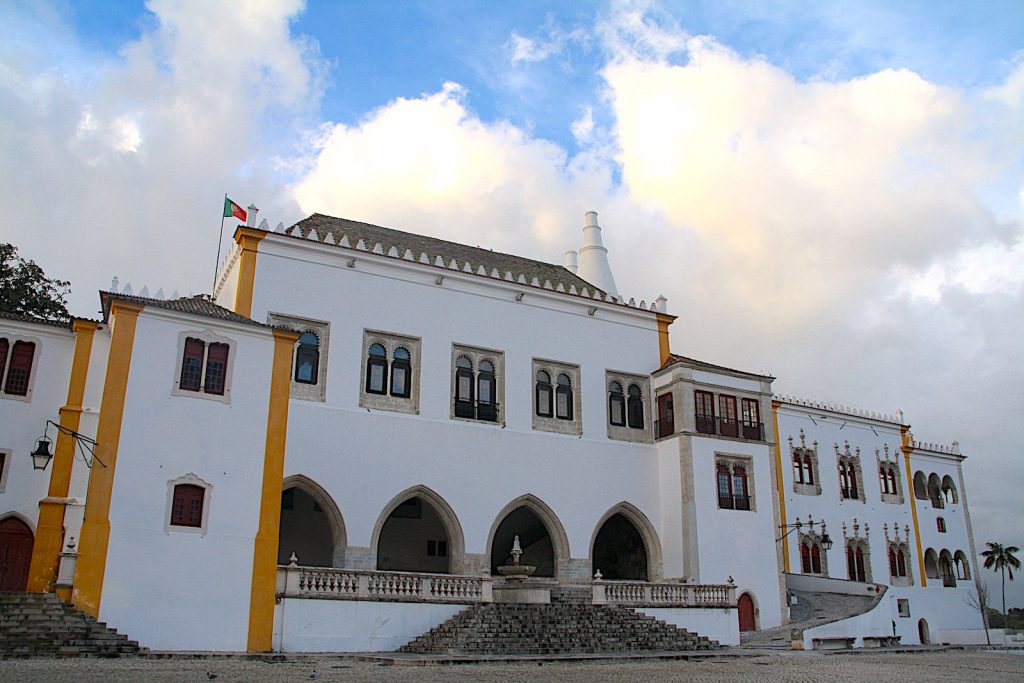 Palácio Nacional de Sintra is located in the historic centre of the city. Even though the palace exterior does not give the impression that it is a palace, the interior does.
Quinta da Regaleira

Quinta da Regaleira is the place where Indiana Jones and fairy tales meet. In previous posts on Sintra I've written that it seems like you're in a fairy tale: the forests, castles and romantic atmosphere that hangs over Sintra. If you want to combine this experience with adventure, go to Quinta da Regaleira.
Chalet e Jardim da Condessa d'Edla
Chalet e Jardim da Condessa d'Edla lresembles the famous wooden chalets from the Alps. It is quite funny to see a similar building in the middle of the Sintra forest. The chalet is almost entirely made of wood and cork. The place was meant as a love nest for King Ferdinand and opera singer Elise Hensler. He had it built at the end of the 19th century.
Don't forget to walk around in the gardens. If you fancy a firm walk then head towards the palace. From here you can go many ways.
Buy tickets online – avoid the queue
Via getyourguide.com you can easily buy your online tickets for various sights in Parques de Sintra. Your bookings can be made on a desktop, laptop, tablet or mobile. The easiest is on your mobile, then you have the tickets right when you see one of the following sights:
Skip the line tickets for:
Castelo dos Mouros: buy the tickets here.

Palácio National e Jardins de Queluz: buy the tickets here.

Palácio Nacional da Pena: buy the tickets here.

Parque e Palácio de Monserrate: buy the tickets here.

Palácio Nacional de Sintra: buy the tickets here.

Quinta da Regaleira: buy the tickets here.
A great advantage to buying your ticket in this way is that you can skip the lines. After 10:30 a.m. almost all sights have long queues. WIth a skip the line ticket you can walk straight to the entrance.
It may be that a priority tickets from an attraction can not be purchased through getyourguide.com, Look at thewebsite of Parques de Sintra You can easily buy (combined) tickets, the combination provides a discount. The tickets can then be downloaded as a PDF on your phone. That way you don't need any paper at all. Smart!
The tram to Praia das Maças
From Sintra to the beach by tram! A wonderful tourist trip from on top of the mountain all the way to the beach at Praia das Maças. You can read the tips here during the ride and where you can buy the ticket. If you have the time and fancy a bumpy and lumpy ride in a more than 100 year old tram, then this is your tram.
Food and drinks
Piriquita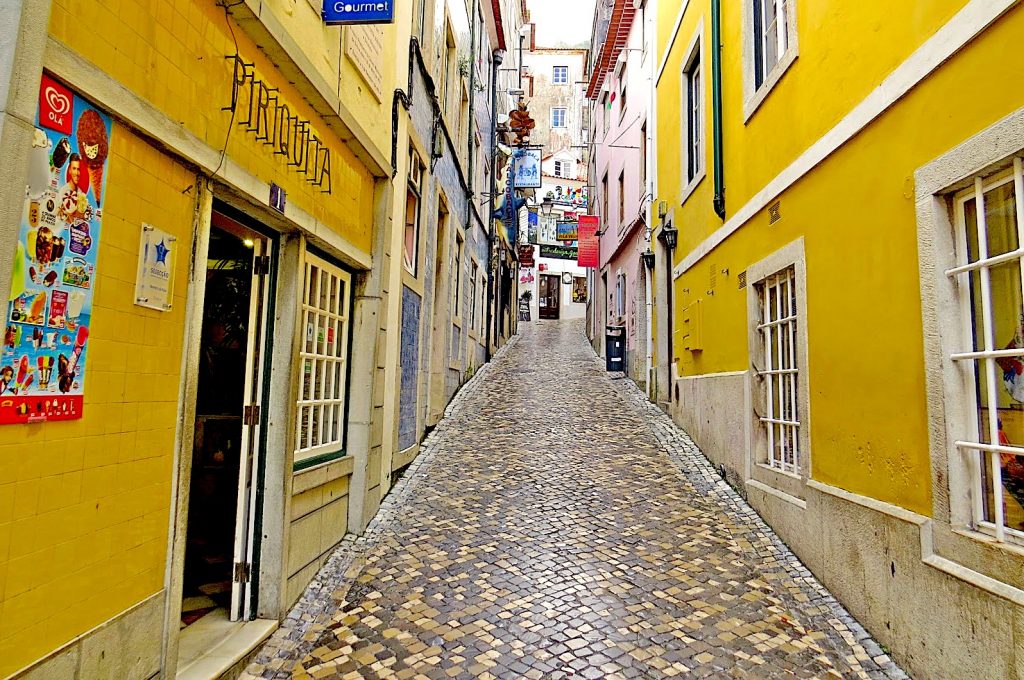 Founded in 1862 and still a household name in the region. The cakes from Piriquita are delicious, unfortunately the recipe is secret. Read more about Casa Piriquita here.
Access to Sintra
From the station it is a 15-minute walk to the historic centre. Bus 434 is the circle line through the Pena. This service runs regularly but keep in mind that it can also be very busy.
Another way to discover the city is by horse and carriage, in the historic centre the carriages are waiting (in front of the national palace). Reservations are not possible but if all coaches are gone, it is never a long wait.
Parking in Sintra
In the centre there is not much parking space, but at Rua Guilherme Gomes Fernandes there is a large (unguarded) parking lot. It is perfectly fine to park your car here, but do not leave any valuables in the car. To get here you have to drive around the Palace Nacional. When you turn into Praça Republica (on your left you'll see hotel Tivoli), and after the hotel, take the first street on the right (Rua Paço). Keep following this until you enter Calçada Rio do Porto after first driving up a bit, you keep driving down to the parking spot.
Are you parking in Sintra, make sure you have enough coins with you! The vending machines do not accept bank card and / or paper money.
The parking in Sintra is cheap. In the high season, one hour of parking costs 0.80 euro cents, in low season it is 0.50 euro cents (prices in March 2018).
How to get to Sintra
Sintra is located 18 miles west of Lisbon and there are many ways to reach this area, such as by car. If you stay in Lisbon for longer than 5 days and decide to visit Sintra, I advise you to rent a car for 2 or 3 days, so that you can visit not only the city but also the surroundings.
From Lisbon you can take the highway to Sintra, you have the choice to go via the toll road (A5 | A9 | A16) (on these roads you will encounter relatively little traffic) or the A37, this is not a toll road and it has a lot more traffic.
If you're taking the train to Sintra, you'll be leaving from Rossio station.