Right in the city centre of Sintra is Palácio Nacional de Sintra, a white palace with two striking white chimneys. From the outside you won't immediately notice that it is a palace, especially when you compare this building with the other palaces in the surroundings of Sintra. This palace looks sober, but it is definitely worth a visit!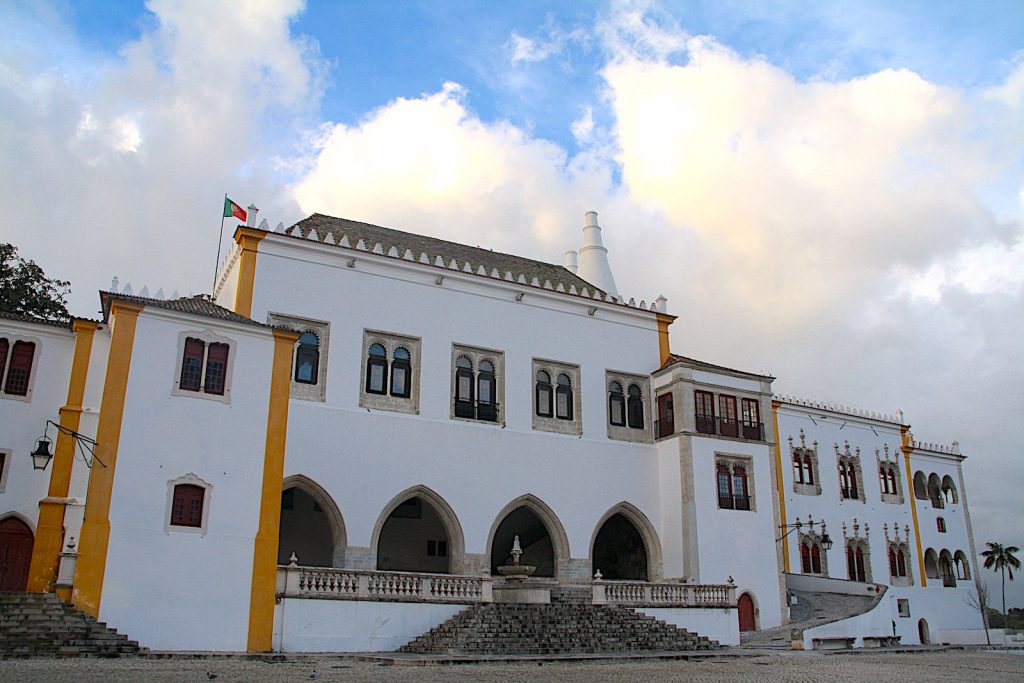 The palace is built on and around the ruins of a Moorish castle. Many influences have been taken into account in the building style as well as in the interior. The palace is characterized by the 2 white chimneys of 33 meters high. Because of the austere appearance, you do not expect the inside to be full of splendour.
Royal summer residence
The palace was built in the 14th century and has long been the summer residence of the Portuguese king. The king liked to be in this palace because it was a cool alternative to the hot summers in Lisbon.
The palace has had many owners, not only the Portuguese kings but also Moorish rulers who built a defensive work in the mountains next to this palace: Castelo dos Mouros.
Our tip: Buy a ticket in advance, so you can skipp the line. You can buy a ticket here via getyourguide.com
Visiting the palace
The palace is very nice to see, but if you do not have much time in Sintra, skip it. You can almost enter all the rooms in the palace, in the end you get to the kitchen where the chimneys are. There you will learn that these were not actually meant for the ventilation of the kitchen.
How to get to Palácio Nacional de Sintra
Address:Largo Rainha Dona Amélia, Sintra
Openings hours: daily 9:30 a.m. – 6 p.m.
Car: take the IC19 (from Lisbon), IC30 (from Mafra).
Public transport: take bus 434 or 435 from Sintra trainstation, Scotturb, these buses go to the palace.