Put on your hiking boots for a nice trip through the Serra de Sintra to Castelo dos Mouros! From the city centre of Sintra it takes you about 45 minutes to walk up the mountain (3.5 km). If you don't feel like walking, you can always go to the castle by bus or car.
In the 8th century the Moors conquered the Iberian Peninsula, and the mountain range of Sintra was of strategic importance for defence. For this reason in the 9th and 10th century a castle was built: Castelo dos Mouros.
When you visit Castelo dos Mouros, you immediately understand what this means. From the castle you have a panoramic and wide view over the whole area. In clear weather you can sometimes see more than 24 miles.
Our tip: Buy a ticket in advance for Castelo dos Mouros, so you can skip the line. You can buy a ticket here via getyourguide.com
Wide views
Castelo dos Mouros is a ruin where you can enjoy the view of the Serra de Sintra along the walls of the castle. The walls are in total 450 meters long and go from low to very high with the various lookout towers. The ruins are spectacular, and the views you get at every vantage point is beautiful.
View from Castelo dos Mouros at Sintra
On the east side is Lisbon, to the west you look out over the Atlantic Ocean and the north side overlooks Sintra. The largest tower is the Torre Real which can be reached via a staircase with 500 steps.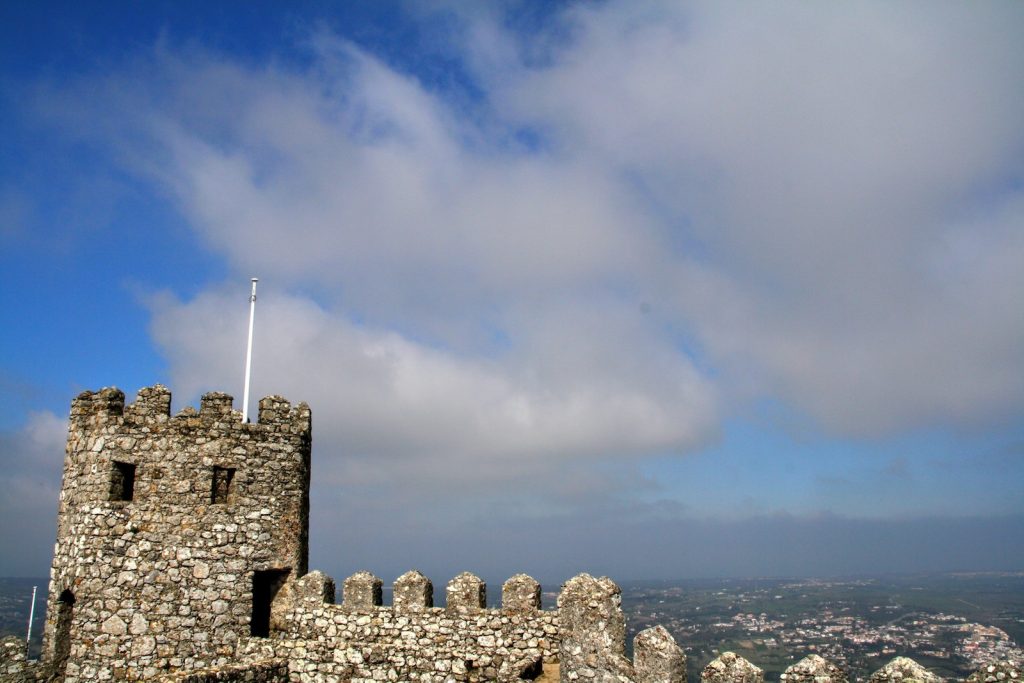 The castle
You enter the castle through the horseshoe arch gate, inside there are still walls of a collapsed church. Because the area was retaken in the 12th century, the Moorish castle has a church and a chapel. Below you can also see a tomb. In the courtyard there's a small cafe where they sell very decent coffee. There is also a restroom here.
Have a fear of heights? Even then it is easy to visit Castelo dos Mouros, because you are walking high-low-high, you do not always realize that you are standing very high on a wall, because the view is very wide.
Do you go to Castelo dos Mouros with children, make sure they can walk themselves or take a baby carrier with you. It is not advisable to go inside with a buggy. Unless you really want to carry the thing around on all the stairs.
How to get to Castelo dos Mouros
Adres: 2710-609, Sintra
Opening hours: EDaily (except December 25 and January 1) from 10:00 a.m.- 6:00 p.m. (last tickets are sold at 5:00 p.m.).
Car: take the IC16 (from Lisbon) exit 8 to Sintra and then follow the signs.
N9 (from Mafra) and take the exit to the N116 towards Sintra. Then follow the signs.
Public transport: take Scotturb bus 434 from Sintra train station.