Lisbon is a city with surroundings that invite you to go and explore by car. From the city centre it's a 45 minute drive to the westernmost piece of European mainland, and the beaches and coastline to the west of the city are breathtaking!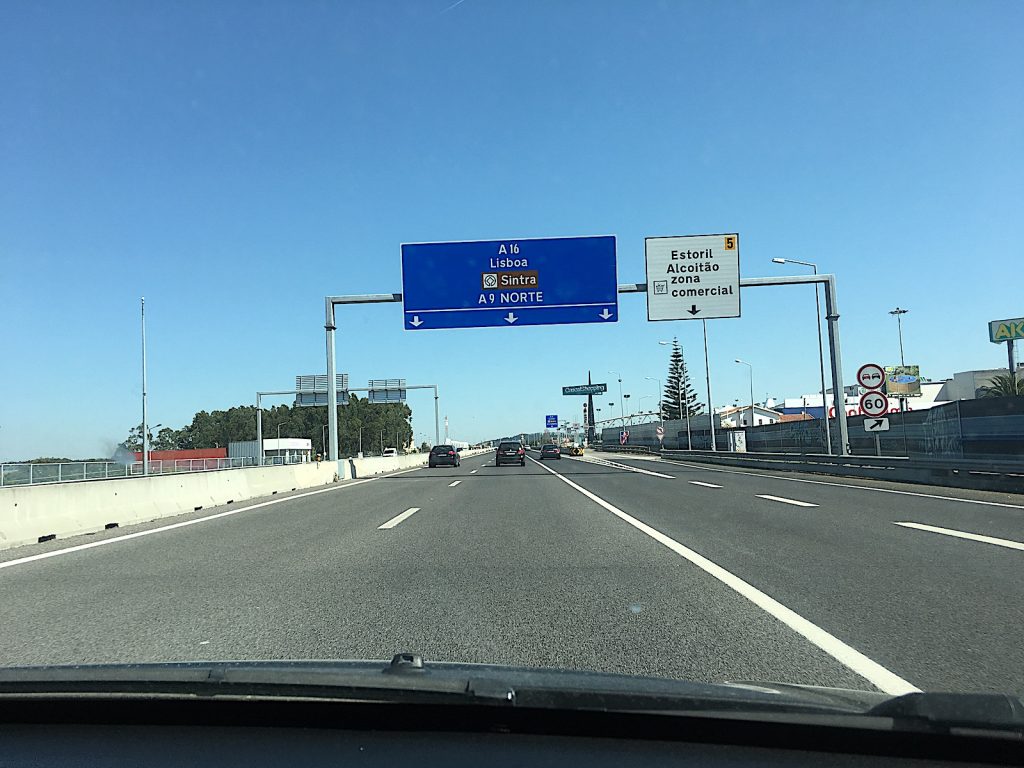 If you want to give your trip to Lisbon a bit more shine, renting a car is a good idea. So what are the things you should look out for when finding a rental car in Lisbon? Which rental companies are good? And above all, what can you do to keep the costs as low as possible?
Where is the Lisbon Airport car rental?
Let's start by explaining where to find all car rental companies at Humberto Delgado Airport Fortunately, that's pretty easy. As soon as you pass the luggage belts and walk out of the arrivals hall, turn to your right. From there it is a 20-second walk to the meeting point where you'll find rental companies that are not located at the airport itself.
Did you book with one of the rental companies at the airport? Walk on a bit and follow the signs for "car rental" (if you can't find the signs, walk around the restaurant on the corner into the hallway behind it), Within a minute you'll be at all the counters of the companies that have their offices and vehicles at the airport itself.
Which companies are at the airport?
At the airport itself you'll find a handful of rental companies. When booking through an intermediary, they are usually indicated as "in the terminal". Here's the list:

If you've booked with these companies you report at the appropriate counter just next to the arrivals hall. After all the obligatory forms and signatures you can pick up your car a hundred meters away. In less than 5 minutes you'll be walking outside to the elevator of a parking garage. This is also where you return your car at the end of your trip.
Are there also agencies outside of the airport?
Yes, there are more car rental companies that are located outside the terminal. Usually they'll pick you up and take you to their parking lot via shuttle bus. On average these guys are a bit cheaper, but with two kids we always opt for the convenience of a car rental company right next to the arrivals hall.
Can you rent a car in Lisbon's city centre?
We understand if you want to enjoy the city for a few days before exploring the area with a rental car. So, should you go all the way back to the airport for a rental car?
Fortunately not. Avis, Guerin, Hertz, Sixt and Europcar all have an office in downtown Lisbon.
How much is a rental car in Lisbon?
The only correct answer to this is: it depends:
For how long do you want to rent the car?
What kind of car do you want?
Which company will you use?
In what period do you plan to rent?
How long in advance do you book?
Some examples.
We usually rent from Goldcar (why Goldcar? We'll address this later). This is generally an economical choice. For two weeks in February or March, a rental price of around £150 is no exception.
For two weeks in mid-August on the other hand, the costs can be as steep as £350. Same car, same company, same duration, but different season.
Should I get one of those toll boxes?
Yes, always do this. It'll probably set you back around € 15 for a week or two, but you'll know for sure that you'll never face any surprises. Almost all main roads around Lisbon are toll roads. If you want to navigate all of them without toll, you'll be spending more time figuring out what turn to take than enjoying the city and the surrounding area.
In addition, with a toll box you can take the Via Verde lane at the toll gates. Just pass through these at a speed of 60 kilometers per hour and you save all the hassle with stopping, paying money and so on.
Why do we book at Goldcar?
If you check out Tripadvisor you'll see thread after thread filled with complaints about Goldcar, about how shameful their staff are, how rude you're treated, how you're repeatedly forced to undergo questioning about all kinds of upgrades and insurance and how you have to be absolutely sure that you are not scammed with some scratches in the windshield.
All of this is the truth.
And yet, if you know exactly what you are buying, you stand a lot stronger and more confident. In short: read up on the fuel policy in advance, take out your own rental car insurance, and make sure there is a minimum of £1500 available on your credit card.
We have taken out a comprehensive car rental insurance through icarhireinsurance.com. This costs us £43 annually, and assures us that we are always properly covered. We have already used our policy because we had a small crack in the windshield upon returning the car. Didn't notice it before. This will set you back £400. Within a week after sending all the paperwork to the insurance, I was reimbursed for everything!
All in all Goldcar is still our favorite, mainly because they have a fleet of pretty new cars, which are all really good! And, you know, they are usually the cheapest.
Any last tips?
Tips for booking
In Portugal people drive on the right side of the road, cars are left hand drive.
When booking, make sure you have unlimited mileage. That way you can drive carefree for as many kilometers as you want.
In Portugal petrol is more expensive than diesel. With some rental contracts you pay a surcharge for a diesel car. This can be more economical if you plan to drive more than 1200-1500 kilometers.
If you are not used to driving in the hills, consider renting a car with an automatic gearbox.
Tips for the car pick up
All rental offices at Lisbon Airport are in the same corridor. The Hertz office has a small corner with a TV screen for kids. This is perfect for dropping off the kids for a second while you make your reservations in order.
Watch out in the parking garage when picking up your car. Overall the parking spots are extremely tight and the staff sometimes let you pick up the car before inspection yourself. Tell them you don't want to do that, let them do it instead.
Watch out in that parking garage anyway. It is really very tight and you're boarding a strange car, so better take it easy.
Take pictures of obvious areas on your car when you do the inspection, like scratches in the paint or on the rims. They may tell you small dents don't matter, but you'd better have pictures of it.
Check your windscreen carefully. See a little chip somewhere? Check with your nail whether it is an actual hole or not. If yes, have them note it down.
Always take the time for your check. We recommend 5 minutes minimum. Don't let anyone rush you.
Tips for during your stay
Portuguese people have a diffrent style of driving. You'll encounter people driving 25 miles per hour on the highway, on the left lane. Or people who pass you by on the right while doing 80. So please, always be careful!
Driving in the city of Lisbon itself is quite easy, especially if you are used to the city centre of London, Manchester or someplace similar. Teach yourself how to drive off on an uphill road, because there quite a few hills in Lisbon.
If you drive westwards from the airport, to Sintra for example, and you merge on the highway, don't be frightened. Yes, there are no lines on the road there and everyone seems to just be doing something. Just embrace the holiday feeling and go with the flow.
Tips for returning the car
Follow the signs from the highway. If you miss the exit to the parking garage, don't panic. Another round of the airport should take you no more than 10 minutes.
The rental car return garage is in the same building as where you picked it up, so right next to the terminal. Very convenient.
Clean up the biggest mess a nit before you hand in the car. We once had an additional fee of €50 for "special cleaning". When I asked Goldcar why, they sent us a few badly taken pictures of some sand in the trunk. I thought it was rather nasty of them, but then again with their low base rental prices they have to make money on something. Just be sure it's not you who's paying the extra's.
Do you want to refuel the car before you hand it in? Just before the exit to the airport (if you come from the west) there is a gas station. Not the cheapest but certainly much cheaper than letting the rental company do it. From the north / east is the gas station 10 km before the exit.