A hidden gem in the centre of Lisbon: tucked away in a narrow street in the Mouraria district you can find the Zé da Mouraria restaurant.

The restaurant is small and filled with locals. The menu mainly has typical Portuguese food.
Quite pricey, no?
Some of our friends advised us to go to Zé da Mouraria to have lunch. We were lucky, we arrived around 14:00 and there was a table available for the four of us immediately. We were told that it can be very busy and there is often a queue.

After we had installed ourselves with a high chair they served us bread, butter and cheese to the table. This was good, since we had just visited Museum de Carris and were quite hungry.
When we saw the menu we were somewhat surprised. These were not the prices we're used to for a typical Portuguese restaurant, especially one that is frequented by loads of locals. We thought prices were quite high here.
We chose two dishes anyway – not only because it was hard to choose, but also because everyone at our table was hungry. The ordered Febras de Porco à casa (€16.50 or £14) and the Prato do Dia: Picanha à casa (€19,50, €17). The waitress indicated that it was a lot of food, but we said that our children are very good eaters and thought we'd be done with it.
Within 15 minutes the dishes were served to our table. At first we thought it was meant for another table, one with more people, but when we asked the waitress smiled at us and with a wink she said that she had warned us.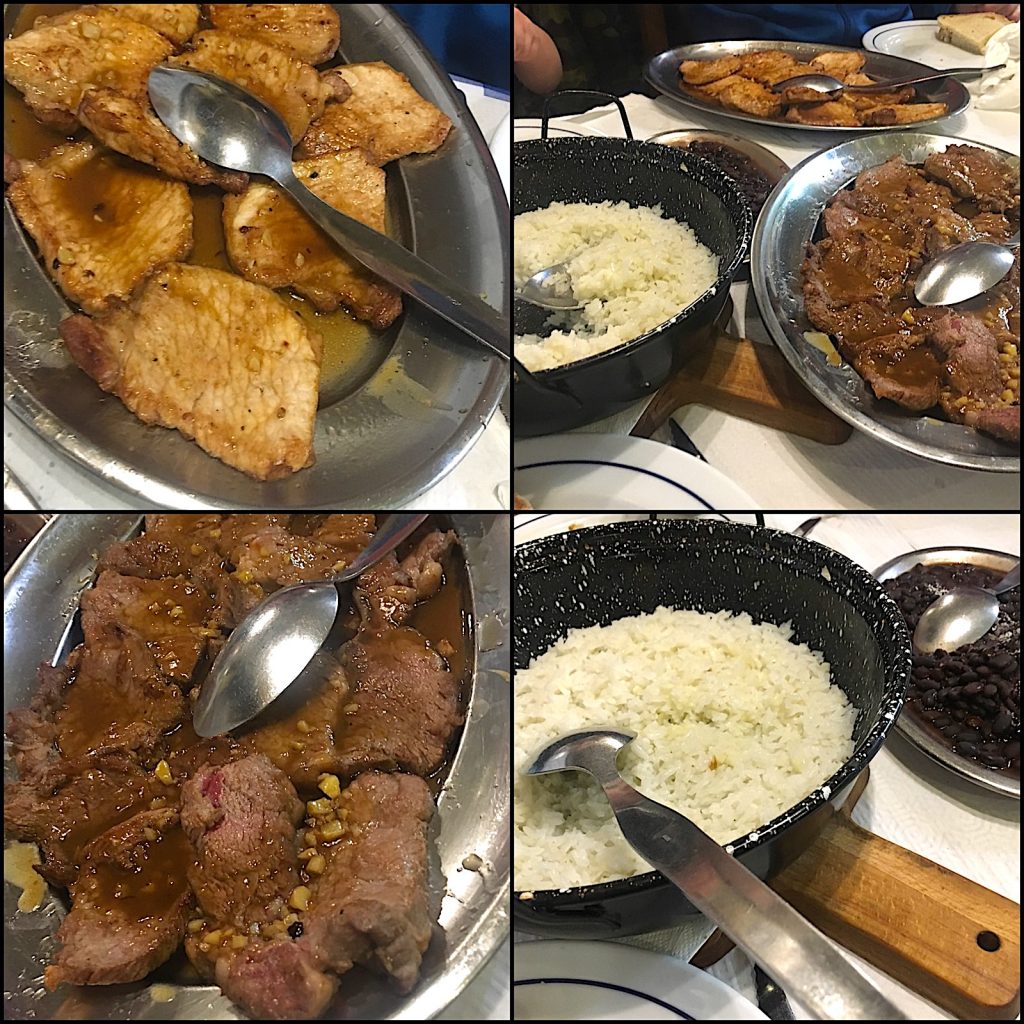 In addition to the large amount of meat, we also got a whole bowl of chips, a pan of rice and a bowl of black beans. We really haven't been able to finish everything! Luckily we could take it with us so we had a dinner for that evening and a lunch the next day.
So what happened here? With a menu in a "normal" restaurant you assume that each dish is meant for one person. Well, the portions served at Zé da Mouraria are more than enough for 3 to 4 people, even if you have big eaters at your table! This explains the high price on the menu, which you don't have to divide by 1 but by at least 3 or 4 to get a per-person price. Then the prices are not that bad for what you get served.
In addition to the large amount of meat, we also got a whole bowl of chips, a pan of rice and a bowl of black beans. We really weren't up to the task of finishing everything! Luckily they offered us a doggy bag so we had a dinner for that evening and a lunch the next day.
Friendly service
Going out for dinner with kids is sometimes a challenge, especially if they are hungry (at least, that goes for ours). Or when they are finally eating, that everything will be on the floor and every now and then a spoon, fork or knife will fall to the ground. But this time also the water glasses were not safe with us.
Long story short, our family made a mess of things. We were halfway between the middle and the side of the as usual somewhat cramped restaurant, so we couldn't go anywhere. The service was very friendly and kept coming with new spoons, forks and knives. When we left the restaurant (with a full belly) and lost the toy of one of our kids, a well-coordinated search was set up at the table, which was already occupied.
Fantastic furnishings
I find the coolest restaurants in Lisbon are the ones with lots of azulejos and pictures of famous Portuguese with the owner (and / or cook) on the wall. Zé da Mouraria definitely falls into this category. It gives me great satisfaction to look around and see all the typical Portuguese things on the walls and the ceiling.
Many locals – more and more tourists
Restaurants that serve more locals than tourists are our favourite anyway. We understood that Zé da Mouraria is more and more included in guidebooks these days, or tipped on travel blogs, which of course attracts more tourists in the long run.
It's not possible to make a reservation at Zé da Mouraria, when leaving the restaurant there was a queue of at least 10 people waiting on a table.

The menu is in Portuguese, if you are not familiar with the dishes then a member of the waiting staff will help by telling you if it is beef, pork or chicken. Every day they offer a Prato De Dia, which is a different dish every day. You can see on a plate at the back of the restaurant what you're getting each day.
With a bottle of wine, water, butter, bread, olives and the two above mentioned dishes we spent around €50 (£43). On the pricey side but we already explained why that is. We could have shared with another family of 4…
Where to find Zé da Mouraria
Address: Rua João do Outeiro 24, Mouraria
Opening hours: Monday through Saturday: noon – 4 p.m. | Sunday closed