If you're a meat lover then this restaurant is just the thing for you because restaurante O Talho (the Butcher) is completely focused on meat.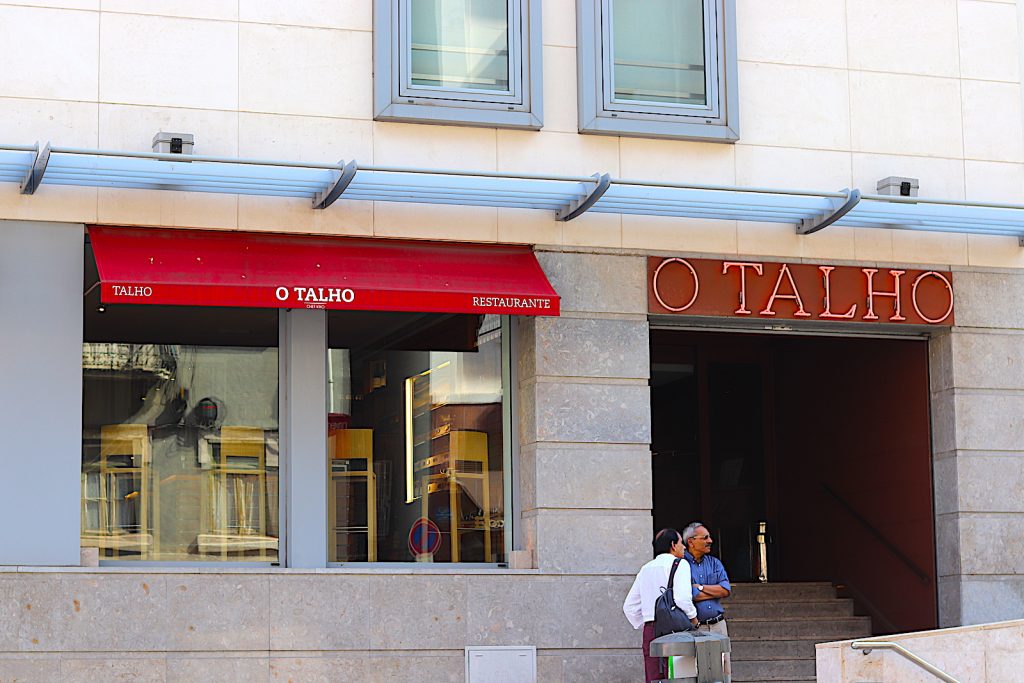 And best of all, they have a butcher's shop next to the restaurant where you can buy meat.
2-in-1 shop
Since we weren't familiar with this concept it took awhile to find out what was what when we walked up the stairs of O Talho. First you come to a cash register, where you indicate whether you're here for the butcher or for the restaurant. So to get to the restaurant, you'll pass through the butcher's shop.

The butcher's place looks very inviting, with beautiful pieces of meat on display. Besides meat, the butcher's also sells wine and crisps (of its own brand). Yes, you can walk out of here with a complete meal if you so fancy.
If you prefer not to cook yourself, you will be guided from the cash register to the restaurant. You pass through the curtains that separate the butcher's shop from the restaurant.
Chic and elegant interior
Upon entering, the chic and elegant layout of the place immediately catches the eye. Even so, it's not a restaurant where you can't walk in on flip flops, even if the atmosphere is chic and very relaxed.
The interior is a mix of modern and traditional aspects. The wall at the back on the right is completely full of signs, which is something you will find in many traditional restaurants.

The toilets, which are downstairs, also have room for typical Portuguese elements. For instance, there's a whole wall made from wine boxes, their wine cabinet is under the stairs. So if you're a wine lover then definitely go to the restroom. Even if it was only to see this creative wall.
There is a lot of service staff in the restaurant, which was striking during our visit because we were one of the few customers in the restaurant (we came fashionably past after lunch time). The staff is young and super friendly, their English impeccable.
Foody food!
The menu is not that complicated, no more than 10 dishes per course. We chose the Pig Belly "A Bairrada" and O Talho Hamburguesa ( burger). O Talho has no specific children's menu so we decided on croquetas with chips for our toddler.

The meat was perfectly cooked and we all fell silent during dinner. The dishes are beautifully prepared and even though it may not look like a lot of food, we were completely full afterwards!
Child Friendly
Children are most certainly welcome here. There is a high chair and when we ordered extra bread for our baby it wasn't even put on the bill. Only thing is they have no roomy place to change diapers.
Not cheap, but worthwhile
O Talho is not a cheap restaurant, but certainly one that is worth paying for. The prices are about the same as in the UK when you're eating out. Three main dishes, an aperitif, a glass of wine, half a liter of water, some bread and spreads and coffees for dessert cost us around €75, or £65.
Chef Kiko
O Talho is one of the restaurants of the famous Portuguese Chef Kiko (or rather Brazil born to Portuguese parents). Chef Kiko has several restaurants with different concepts in Lisbon. His first restaurant is O Talho, which will open in 2013. Good to know: there is no fish in this restaurant.
In 2014 he opened Cevicheria in Príncipe Real, where you can only eat fish. In 2016 he opened his third restaurant A Cafetaria near Cais do Sodré, where you can eat small and quick dishes.
Chef Kiko has made several TV programmes and written a number of cookbooks. He's a true celebrity chef!
Where to find O Talho
Address: rua Carlos Testa 1, São Sebastião
Opening hours: every day noon – 5 p.m.| 7 p.m. – 0:00